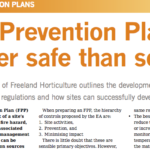 Useful advice on Fire Prevention Plans
23rd April, 2018
Not sure where to start with the Fire Prevention Plan for your business? Our Andrew Goddard provides some useful guidance in an recent article.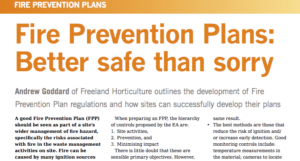 The latest issue of Organics Recycling magazine from the Organics Recycling Group (part of the Renewable Energy Association) includes an article from our Andrew Goddard outlining the development of Fire Prevention Plans.
It includes information about how sites can successfully develop their plans, with top tips including:
Remember the primary objectives and the practicalities. There are often many ways of obtaining the same result.
The best methods are those that reduce the risk of ignition and/ or increase early detection. Good monitoring controls include: temperature measurements in the material; cameras to locate surface ignitions and problems with machinery; and good maintenance systems on equipment.
The scale of the problem will be minimised by reducing the quantity and age of material on site, or by the use of barriers to prevent spread of the fire.
Good firefighting practice is important if fire is to be brought under control.
Training in the details of the FPP is important to ensure people know their role and responsibilities in the event of a fire.
To read the article in full, click here.