PREVENTiT among best new products at RWM
20th September, 2017
PREVENTiT, the new low-cost fire prevention solution for the waste and recycling industry, has been identified as one of the six best new products at RWM 2017.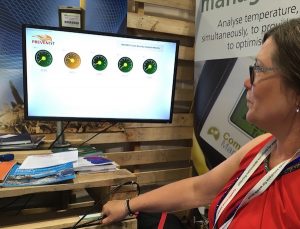 Reporters from Resource Magazine spent three days at RWM 2017 in Birmingham looking carefully at the exhibits on show. PREVENTiT was one of the six best new products that impressed them.
Read their report here.
On our stand at the show (which had more than 450 exhibitors from the Waste, Energy, Recycling and Water sectors), we demonstrated the PREVENTiT sensors in action. Visitors were encouraged to hold one of the sensors and watch how the monitor indicated the rising temperature from the hand's warmth (see picture).