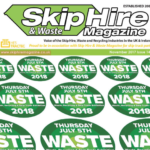 Fire Suppression feature highlights PREVENTiT
21st November, 2017
PREVENTiT, our low-cost fire prevention solution for waste and recycling stockpiles, features in Skip Hire and Waste Magazine's feature on Fire Suppression for the industry.
The article in the November 2017 issue refers to the fact that fire prevention has been at the top of the waste industry agenda. New requirements from the Environment Agency mean operators need to include fire prevention measures within their Fire Prevention Plans.
PREVENTiT monitors temperatures deep within a stockpile, wirelessly transmitting information from every sensor point to a PC or mobile phone, allowing the user to keep a check on temperature data.
To read the article in full, click here. For more information about PREVENTiT, call 01322 667076.