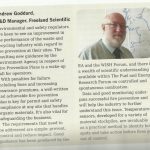 Hot topic – Fire Prevention Plans
5th July, 2017
Andrew Goddard, R&D manager at Freeland Scientific, discusses fire safety at recycling plants in the latest issue of Organics Recycling.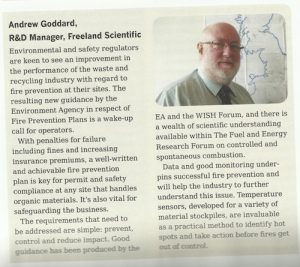 In the article, he identifies the issue as a hot topic for the organics sector over the coming years and explains that Environmental and Safety regulators are keen to see an improvement in the performance of the waste and recycling industry with regard to fire prevention at their sites.
The new guidance in respect of Fire Prevention Plans is a wake up call for operators. The requirements that need to be addressed are simple, he adds: prevent, control and reduce impact.
PREVENTiT temperature sensors developed for a variety of material stockpiles are invaluable as a practical method to identify hot spots and take action before fires get out of control.
If you would like more information about how PREVENTiT can assist in the fire prevention measures at your site, call us on 01322 667076.